Building a future of affordable and accessible mobility
Bamboo Labs is a highly acclaimed social enterprise based in Ethiopia that is dedicated to addressing the increasing demand for sustainable and accessible mobility in Addis Ababa. The organization leverages the vast abundance of bamboo in Ethiopia and aligns with the government's commitment to promoting sustainable modes of transport. The company specializes in manufacturing wheelchairs and bicycles crafted from bamboo, which are designed to cater to the unique needs of the local market.
Bamboo Labs is committed to providing affordable, reliable, and sustainable transportation solutions that are not only accessible but also environmentally friendly. By using locally sourced bamboo, the company supports the local economy while promoting sustainable practices. In addition to producing wheelchairs and bicycles, Bamboo Labs has plans to expand its product line to include bamboo bike frames for export, which will further contribute to the growth and development of the local economy.
Overall, Bamboo Labs is an innovative social enterprise that is making a significant impact on the transportation industry in Ethiopia. Its commitment to sustainability and social responsibility makes it a role model for other organizations looking to make a positive difference in their communities.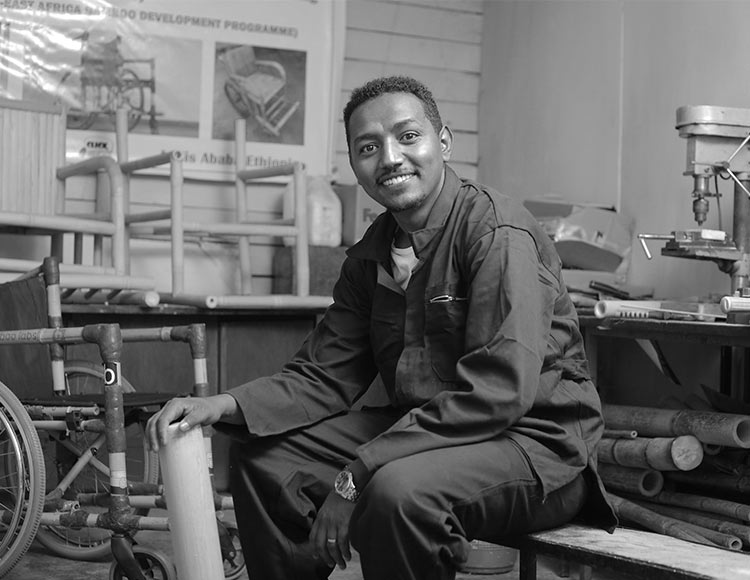 Eco-friendly Solutions for Ethiopia's Urban Future
As Ethiopia experiences rapid population and economic growth, its capital city, Addis Ababa, is grappling with the consequences of urbanization, including the deterioration of public spaces, increased air pollution, and a rising number of traffic fatalities. Over the past two decades, the city's population has doubled, now reaching an estimated 5 million inhabitants. Until recently, there has been a limited availability of affordable, high-quality bicycles and a lack of public awareness about the benefits of cycling as a sustainable mode of transport. To address these issues, the government is implementing strategies to promote non-motorized transportation, with organizations such as bamboo labs poised to play a pivotal role in these efforts.
Bamboo labs aspires to become a key player in the Ethiopian bamboo market, while simultaneously promoting a more equitable, safe, and environmentally friendly mobility plan for the country. By utilizing locally sourced bamboo, the company is generating employment opportunities and bolstering the local economy. Additionally, bamboo labs is actively advocating for sustainable transportation alternatives and striving to reduce carbon emissions for a greener future. By championing these initiatives, bamboo labs aims to alleviate the pressing urban challenges facing Addis Ababa and contribute to a healthier, more livable city for all its residents.